This is an awesome pre-formatted list, in fact, it's The Ultimatest.
Below are the best pre-formatted grocery lists ever created. I made them just for you—and they're free. Print 'em out, hang 'em on the refrigerator door and mark 'em up before you go to the grocery store. We have comprehensive versions for both meat-eaters and vegetabletarians. Links are below.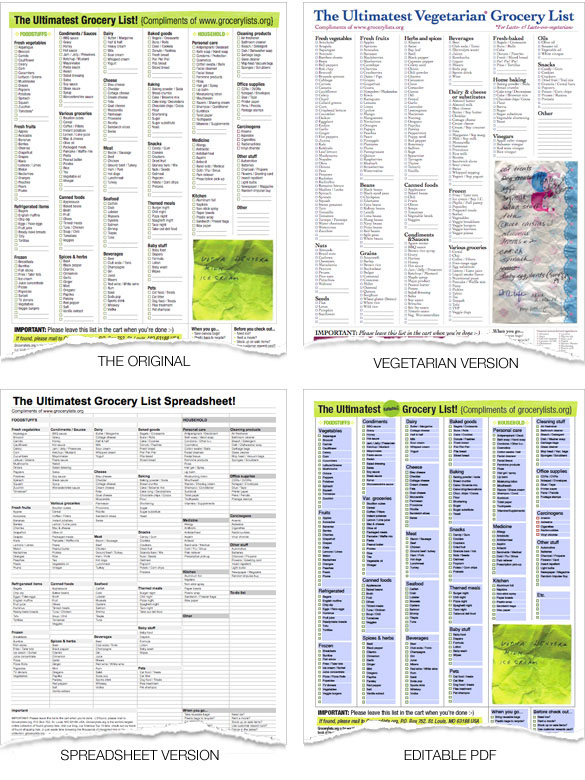 And now there are fully-editable PDF and spreadsheet versions of the Deluxe list. That means that if you don't have pets or kids, for example, you can edit those sections to be something else. If an item wasn't on my pre-formatted list, now you can add it then print it out. How awesome is that? No customer support is offered. If you want to permanently edit the customizable PDF file you will need to buy Adobe Acrobat. Otherwise, edit it as you need then print it a bunch of copies. Enjoy.
PS: The New Yorker made a list of the 100 Best Lists of all Time and our Grocery List Collection list made the list!
---
To download
Right-click the links below and choose "Save file as…", "Save link as…" or whatever. Last updated January 2013.
---
As seen in…
The New Yorker, The Wall Street Journal, Milk Eggs Vodka: Grocery Lists Lost and Found, Lifehacker, Ask MetaFilter, Woman's Day, The Mommy Journal, mothering.com, Org Junkie, StumbleUpon, Squidoo, Wikipedia, Jimmy Kimmel Live, and more.
---
Eloquent testimonials from real people
"You r a God send!!! Thank You so much for the ultimatest grocery list!!!!! WOW"
–Angela
"I wanted to let you know what a great grocery list you offer and to thank you for putting such a great list together!"
–Trisha
"Your list is fabulous!"
–Ngoza
"This list really is the ultimatest."
–Stella
"I LOVE your free grocery list on PDF. I have used it for 5 years. Any chance you will make it an app for the iPhone? All the iPhone grocery apps pale by comparison. Those people making those apps obviously have never seen your list. It's so damn perfect, it deserves an iPhone app!!!"
–Maru
"I love the ultimatest grocery list. It has truly simplified my life. thank you"
–Lena
"The Ultimatest Grocery List is perfect. Thank you so much!!"
–Rose
"I love your site and the lists! BTW I use your ultimatest list! It's in a plastic sleeve on the fridge and I mark what I need with erasable marker…"
–Mary


"It's the best I've found by far!!"
–Sarah
---
User-made versions
Sometimes people send me their own versions or edits of these lists. I figured I'd start sharing them here, although most are buried in years of email. Send yours!
Hi Bill,

I remade your spreadsheet to work at my grocery store in Bright's Grove, Ontario, Canada. I hope that's okay and I have attached it for you to share. I added the aisle numbers or the store area where the item is found.

Laura
---
Want to contribute some lists? Contact us!