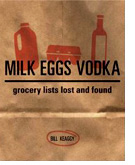 Today is the day! "Milk Eggs Vodka: Grocery Lists Lost & Found" is now available.
I made a new site to promote it so I'm going to be more active over there for a month or so. Please check out www.milkeggsvodka.com and the new blog I set up to document the adventure: www.milkeggsvodka.com/blog.
"Milk Eggs Vodka: Grocery Lists Lost & Found" features nearly 300 discarded grocery lists from all over the U.S. — and a few from around the globe. The foreword is written by Jim Coudal, of Coudal Partners and Museum of Online Museums fame. Sorted into surprisingly obvious chapters (lists with poor spelling, healthy vs. unhealthy lists, lists made by elderly people or people planning parties, lists with drawings, doodles and notes on them, etc.), each list is displayed, dissected and commented on. You'll probably never leave your list in the grocery cart again.
Where else will you find a 2,000-year-old grocery list, lists from all 50 U.S. states, the most commonly misspelled words on Americans' shopping lists, delicious recipes made using only ingredients listed on other people's discarded lists, a shoplifting list and a chance meeting with Chevy Chase in the bathroom at Yankee Stadium? Where? (Probably nowhere.)
But why collect found grocery lists? Because lists tell us a lot about our neighbors, our friends, our ancestors, our species and ourselves. They're supposed to be private and that's why it's so enjoyable to look through the ones that people discard — unless one of those lists happens to be yours. Then it might not be so enjoyable, because if there's one thing I like more than finding a lost grocery list — it's making fun of it.
You can pick up a copy of the book at the following online stores (and at local booksellers):
→ Order MEV from Amazon U.S.
→ Order MEV from Amazon Canada
→ Order MEV from Amazon U.K.
→ Order MEV from Amazon Japan
→ Order MEV from Barnes & Noble
→ Order MEV from Powell's Books
If you like food, freaks and/or Found Magazine, you'll dig this book.